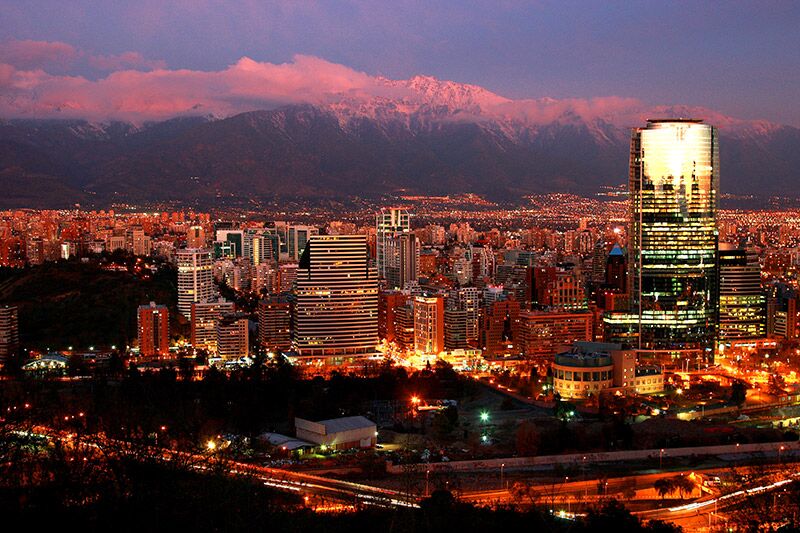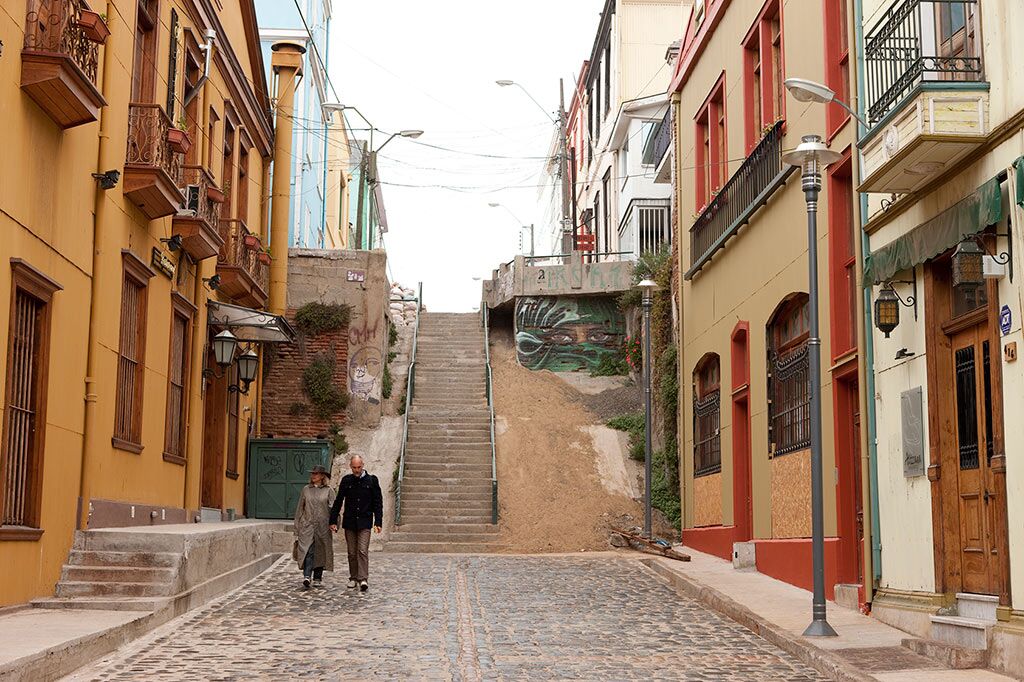 CHILE
Squeezed between the Andes Mountains and the Pacific Ocean, this spaghetti-like strip of land was affectionately tagged "the thin country" by the Nobel Prize-winning Chilean poet Pablo Neruda. It is never more than 221miles (355km) wide, and its coastline extends over 2,700miles (4,300km). Because of its North-to-South length, Chile has many different climates and landscapes. The climate ranges from arid at the world's driest desert in the north, to temperate in the central region and sub arctic in the south. The landscape includes a spectacular array of deserts, lush expanses of forest, the Andes Mountains, beautiful lakes, beaches, rich agricultural regions, volcanoes, glaciers and fjords.
This wild geography hasn't stopped Chile from becoming one of the continent's most developed nations. In fact, Chile has been called the "Switzerland of South America" for its natural beauty, the efficiency of its banking system and its network of transport and services. Indeed, the feeling of Chile's cities and the manners of Chileans are strongly European. They are an urbane and courteous people, who will go out of their way to show directions to a stranger. The traditional hospitality of Chileans, noted by travelers from the 18th century onward, is even more evident today. After years of dictatorship, "Chilenos" have welcomed the influx of foreigners as a sign of support for their democracy. Prosperity is now increasing more slowly than in the boom 1990s, but Chile has one of Latin America's most robust economies to add to its already invigorating South American atmosphere.
Chile's Norte Grande offers surpassingly beautiful desert landscapes and high plateaus with unique fauna and flora. Numerous national parks and reserves have been created to protect the delicate ecology of the area while providing access to the public. This region presents a combination that includes a unique landscape with impressive geological formations, geysers, thermal oases, archaeological treasures, charming villages and the Atacama Desert, the driest in the word, with its salt flats and Andean lagoons.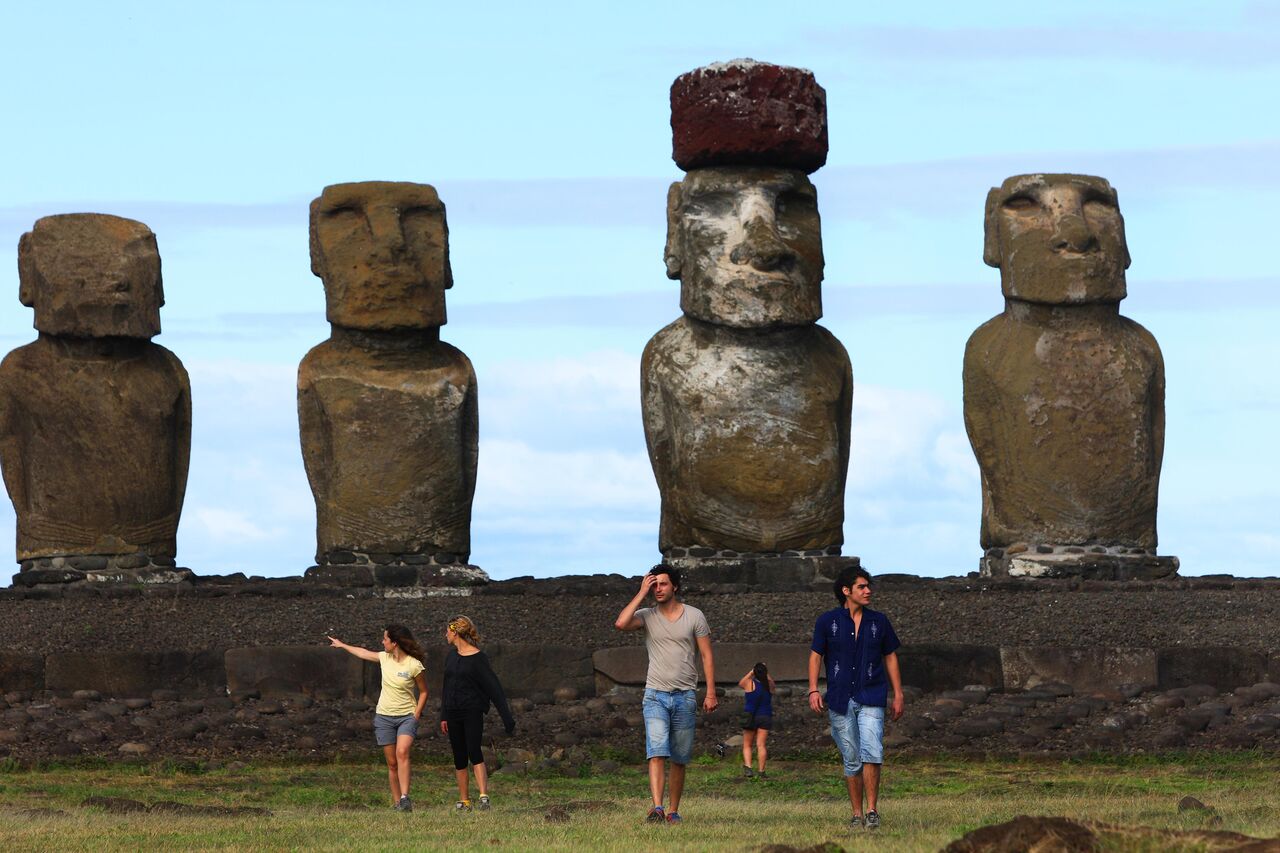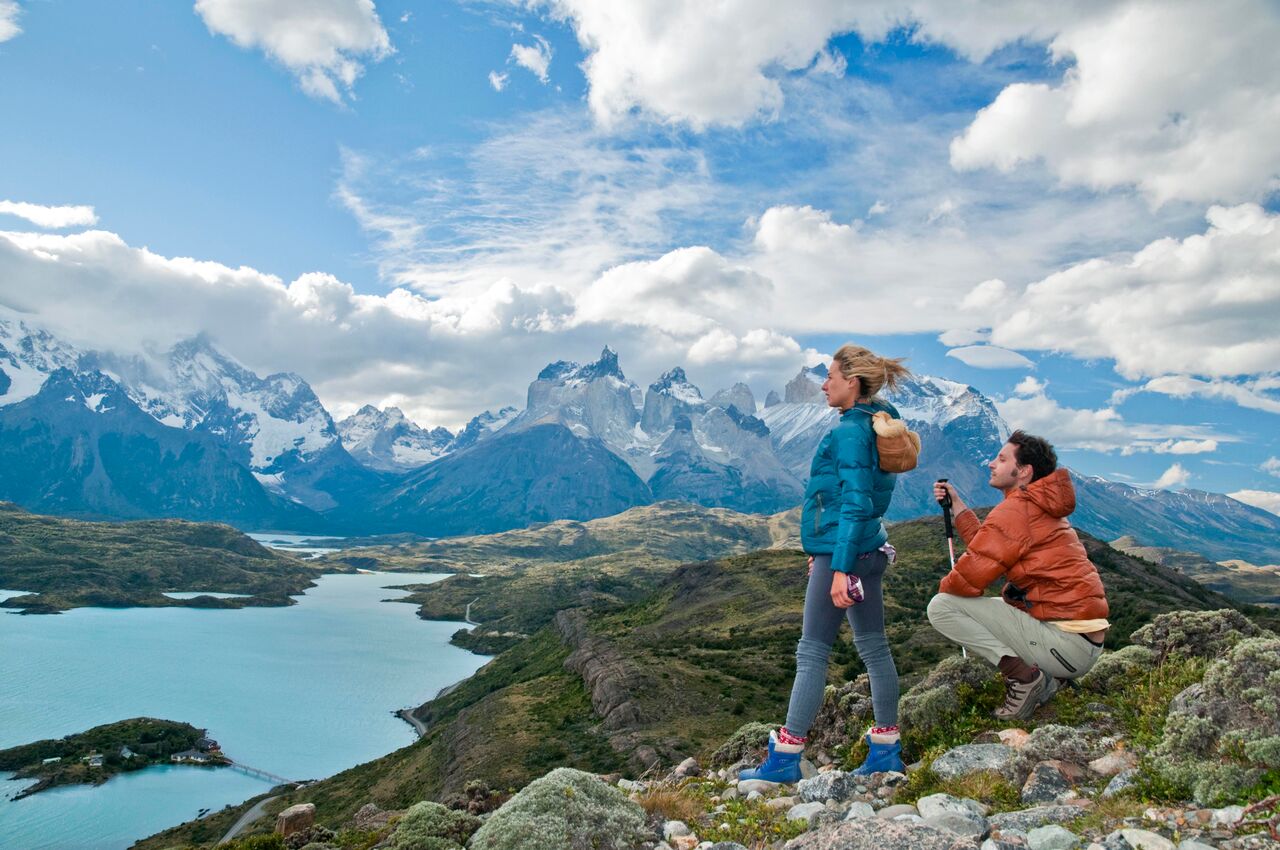 In the Norte Chico, vegetation is more abundant in the western part of this area. The flora is composed mainly of cacti and desert shrubs, but the rainy season gives way to the "Blooming Desert", when a large portion of the dry land is covered with colorful flowers. Clear skies and beautiful beach resorts can be enjoyed year round.
Central Chile is not only the geographic center of the country, but also the country's cultural and economic axis. This is Chile's most populated area. Located in this region are the coastal cities of Valparaíso and Viña del Mar, and the capital city of Santiago. This part of the country portrays abundant vegetation, Mediterranean climate and its agricultural valleys.
Southern Chile is a place of abundant green forests, lakes, and rivers. A region of national parks and ecological reserves, it is home to a wide variety of flora and fauna, and its residents enjoy constant rains. Scattered throughout the south are quaint towns such as Puerto Varas, Puerto Montt and Castro, along with cities of growing importance such as Concepción, Temuco, and Valdivia.
The Patagonia region of Chile reveals a world of adventure and interesting destinations to be discover. Visiting the glaciers, fjords, islands and channels in diverse types of embarkations offers access to terrain of unusual beauty. Undoubtedly, the main landmark of this region is the Torres del Paine National Park. Created in 1959 and declared by the UNESCO a biosphere reserve in 1978, has a surface area approximately 242,242 hectares. It is located between the Andes mountain range and the Patagonia plains that gradually descend to the ocean. Its climate is trans-Andean and freezing in the high parts. It rains sporadically, although not heavily, and its winds may reach speeds of up to 75 miles per hour. The park's main attractions are the massive rocky peaks that dominate the scenery, followed by its innumerable lakes, lagoons and rivers, along with icebergs and glaciers.
Chile is a country of extremes and superlatives.
In an area of South America's Pacific coast that's just a little larger than Texas, it can boast • the world 's driest desert, vast and verdant temperate rainforests, more than 2,500miles/4,000kms of beaches, rugged headlands, spectacular inland seas where glaciers reach the coast and many of the continent's highest peaks.
With natural assets like these, it's no surprise that Chile appeals to active, adventure-oriented travelers. Some come to navigate northern Patagonia's Río Futaleufú, called the world's greatest whitewater river. Others fish clear rivers and countless lakes, ascend smoldering volcanoes that soar along the length of the Andes, slalom down world­ class ski slopes and tramp the trails around the Torres del Paine­ considered by many the most beautiful mountain range in the world.
Accommodations and services in Chile offer pampered adventure, close to nature. Comfortable rafting camps, luxury fishing lodges and thermal spas are far from the pup tents and rustic inns that served travelers a generation ago. Small but plush cruise ships now penetrate remote coves that only an intrepid few could reach before. Hikers can still circle the Torres but now count on comfortable beds, a hot soak and massage, and elaborate meals and fine wines.
Chile's economy is the most successful in South America, which is reflected in its vibrant cities. Santiago, the capital city, has cultural centers, museums, restaurants and lively nightlife. It also has sophisticated facilities that accommodate meetings and conventions. North, south and west of Santiago, innovative vineyards produce world-class wines. The colorful port city of Valparaíso is a World Heritage Site that is undergoing its own cultural renaissance.
Farther north, the clear desert skies draw professional and amateur astronomers from around the world. The dry but cool Atacama climate has also allowed for near-perfect preservation of archaeological sites, including Inca ruins and massive geoglyphs that stretch for miles across the barren hills, and of historic ghost towns like the Humberstone and Santa Laura saltpeter mines. The remote Pacific islands of Robinson Crusoe and Easter Island add touches of romance and mystery. In reality Chile's extremes from glacier adventure, exotic islands, sophisticated cities and expansive desert offer something for every taste, at every season. Learn more about what Chile has to offer and expand your horizons today!